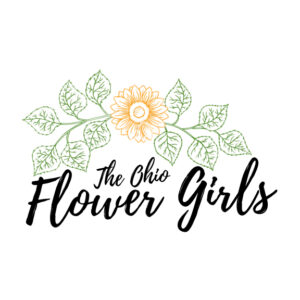 The Ohio Flower Girls, LLC
Hannah Stuckey
1875 North Sandusky Avenue
Bucyrus, OH 44820
USA
(419) 561-4106
Follow Us
About
We grow and arrange dozens of varieties of flowers and sell our seasonal bouquets around Northcentral Ohio area. You can also get in on the fun through our flower arranging classes, "bouquet bars" where people can try their hand at arranging flowers, and a U-pick flower patch.
If you're new here, you may want to check out our bouquet subscriptions, available for pickup in several cities. And be sure to follow us on social media to keep up with life on the farm, locations of our bouquet bar, what's blooming, and schedule for the U-pick flower patch.
We hope to see you soon, fresh flowers in hand!
Services
Subscriptions
Design Workshops
Flowers for Events
Funerals
Individual Orders/Deliveries
Pick your own
Wholesale to Florists
Flowers We Grow
Ageratum

Allium

Anemone

Aster

Celosia

Cosmos

Daffodil

Dahlia

Eucalyptus

Euphorbia/Snow/mtn

Gomphrena

Grasses & Grains

Lisianthus

Peony

Ranunculus

Rudbeckia

Scabiosa

Snapdragon

Statice

Strawflower

Sunflower

Tulip

Yarrow

Zinnia

Dried & Preserved
Where to Find My Flowers
The Market at The Pickwick Place

1875 North Sandusky Ave

Bucyrus

,

OH

44820

United States

Get Directions