Martin and Helene Meskers, Oregon Flowers
Oregon Flowers runs a multi-acre facility that's well-known for embracing automation. While their size exceeds the average specialty cut flower farm, the principles they use to guide their business decisions and processes can apply to any flower farm.
In Oregon's Willamette Valley, 10 acres of Dutch glass greenhouses nurture thousands of lilies through the year. An additional 50 acres of field production yield stems of peony, hydrangea, eremurus, allium, snowball viburnum and berry crops. This specialty flower farm (now turned flower factory) was founded in 1985 by Martin and Helene Meskers. It's known as Oregon Flowers, Inc.
"Over the years we've expanded 10 times," Martin says. "Every three years or so we've added greenhouse space. We grow with our market, with our employees, and suppliers." Each expansion was inspired—and tempered—by Martin's Dutch way of farming. "I grew up on a bulb farm in Holland. In the Dutch way of farming, you must be efficient," he shares.
"For instance, I was taught from a young age never to walk around with empty hands. If you take a crate of bulbs over, bring an empty one back. I grew up with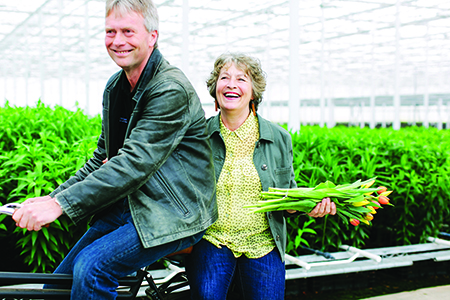 Founders Martin and Helene Meskers built their floral business by focusing on providing a top quality, consistent and reliable product for their customers. "It's always easier to sell product when there's demand for it," Martin says, which is why they grow fewer lilies in summer, when other flowers are readily available.
 that way of thinking." He applies that mental filter to business growth and expansion. "I'm always looking for mechanization that fits our business and helps us be more efficient. I love being a flower grower. It's a great industry to be in, but we're not only doing it because it's fun—it's also because we can make a living. We're fairly practical. The Dutch are that way, and so are we," he says.
First Steps in Mechanization
Which came first: the crops or the mechanization? As cut flower growers, there's a dynamic tension between crop mix and growing efficiency. Crop variety can help drive sales, especially when customers are always asking, "What else do you have?"
Martin experienced the same thing when he started the business 37 years ago—and the question repeats today from current customers. "You can grow a lot of different crops, and it's really nice for your customers because they can get many things from you," he says. "But you cannot be as efficient in your production because you're doing everything all the time."
Lilies were a new crop when Oregon Flowers began, and Martin took a gamble. "I saw there was a future in lilies, so that became my main crop. I aimed to grow in greenhouses so I could be consistent in quality and supply year-round." That single decision to focus on one primary crop spurred each consecutive decision to invest in mechanization.
"When we first started, we would plant lilies on our knees in the ground in the greenhouses," he says. "Now we plant in crates filled with potting soil." Martin sees that decision to grow in crates as one that really had an impact on how they do business. Growing lilies in crates helps them time the product better and plant under better circumstances. "With crates, we plant on the planting line instead of on the ground in the greenhouse when it's hot or wet or cold. That's a huge labor savings, and it's better for our employees," he says.
Oregon Flowers sells lilies year-round, with product going out five days per week. "The secret is timing crops so we have enough flowers for our customers, but never too much. But at the same time, we need enough so we can keep the price up and quality consistent," Martin explains. That balancing act makes timing crops critical, and growing in crates improves the odds.
"Crates opened the door for us to use mechanization to steam sterilize soil by stacking the crates, which means we can re-use the soil, which is more efficient," Martin explains. "So you start with one decision to mechanize and because of that you keep mechanizing."
For instance, the team used to go into the greenhouse and cut stems by hand and bring the flowers out. Now that process is mechanized, as is applying beneficial insects, spraying, irrigation—whatever. "It all becomes more and more mechanized," Martin says.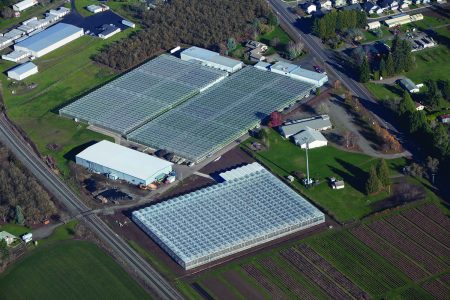 The first glasshouse went up at Oregon Flowers in 1985. The crop mix today still includes some field-grown material, such as bulb crops eremurus, allium, and calla lily, and perennials or shrubs that grow well in the area, including berry crops like snowberries, ilex, and blueberries. "We grow those items to add to our sales," Martin says.
For smaller specialty cut flower growers, the decision to automate tasks is a big step to take. "When you start to mechanize, all of sudden things start to change, and it's challenging to make that change because it means more investment," Martin says. "That's not an easy step to take."
The way he suggests seeing it, though, is as making a commitment. "You're making a commitment in your business for the future. Once you start to mechanize, you start investing in your business more. You're on the road—and you have to keep going."
The benefits that mechanization bring extend from labor savings and ease of operation to better crops. "We have a harvest system in the greenhouse now where workers cut lilies and place them on conveyor belts. It's easier for the workers to do that, and it's better for the flower quality—they're not banged up so much."
Ultimately the flowers are bunched quicker, go in the cooler quicker, are precooled quicker, are cut earlier in the day (done by 10:00, before heat arrives)—all of which means the quality is better. "Mechanization starts with labor savings, then goes to ease of work, then to better quality of product. That sequence is the way it works," he adds.
Growing 52 weeks a year really helps bring home the return on investment with mechanization. "The more you use the mechanizations, the quicker it pays for itself. For summer-only growers, it costs more than what you get out of it—it takes longer to see those savings."
Martin also adds that "the other thing with mechanization is that there's always the next step you can take. The next one either costs more or is less efficient to do, so you do the ones that make the most sense right away." The exception, of course, is if something completely new comes around like climate control computers. "That's a no-brainer," Martin says.
At this point, Oregon Flowers is as mechanized as they can be. "Each next step for us is a smaller labor savings than what we've done in the past," he adds.
Martin admits there's a disconnect between his acres of greenhouses and a smaller flower grower. But there are ways to apply his efficiency-minded Dutch-think to begin mechanizing even the smallest flower farm. "Any time you can invest in your business by having better infrastructure—whether it's a greenhouse, cooler or packing area—it's worth doing. Once you make that investment and have it, it will come back every day when you're working," Martin says. That's where being committed to your business comes in.
"The first step makes a huge difference. For example, if you have a small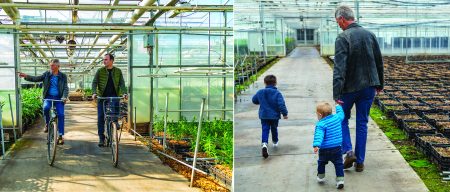 The company is headed into its second generation of leadership, with son Tyler taking over. Martin is pursuing semi-retirement, which is code for solving problems from the minute he walks in the door each day. Classic Dutch bikes make it easy to check on crops in 10 acres of greenhouses (left). The third generation of Meskers is already at home in the family business (right). Photos by Katie Berdan Wolden for Oregon Flowers
greenhouse, make it so you have a concrete aisle from the greenhouse to the warehouse to the cooler. That first investment makes the most sense," he explains. "Build your greenhouse close to the cooler and warehouse. Simple decisions like that can be more important than a certain piece of equipment."
Always aim for efficiency in day-to-day operations. "If it saves on labor—makes things go quicker and faster—and it's better for the quality of flowers, it's better. It's a decision worth making and an investment work doing," he adds.
"Much of it is common sense. If you need a tractor, buy one that starts up every morning when you need it. Maintain your cooler—make sure it's working well. If you build a greenhouse, build a good one, spend a little more so you can use it to extend your season. These are all simple things, but they helped us a lot along the way by being practical. Above all, as you build your demand, keep growing with it."
Some of the best business decisions don't require mechanization—like buying quality bulbs. Oregon Flowers buys primarily from Holland. Because they're growing bulbs year-round, the company does source tulips and lilies from the southern hemisphere during Holland's off-season. Martin's best advice on sourcing bulbs for a flower farm? "Don't try to find the cheapest bulbs. Get good quality product that will pay you back in the long run," he says.
"A lot of things we can control as growers, but with a bulb, you get what you get. Go for varieties that may cost a little more but are more unusual. You won't find a lot of difference between suppliers cost-wise, but if you can locate a supplier who's geographically closer to you, you can save on shipping costs."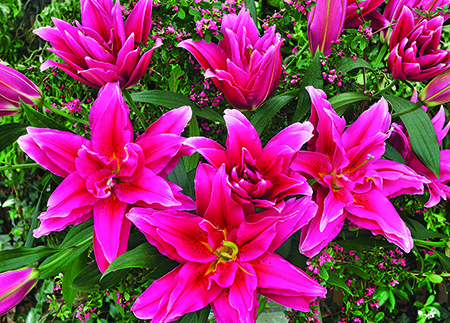 Lilies that Win Oregon Flowers won Best in Show at the Society of American Florists' Outstanding Varieties Competition during the organization's 137th annual convention in September 2022. Oregon Flowers presented a salmon Oriental Hybrid lily, 'Zelmira.' Judges said the petal shade is in demand, the foliage was perfect, the stems were strong, and the blooms were consistent. Martin shared that Oregon Flowers has consistently entered the competition for more than 20 years, but this is the first time one of their flowers has earned Best in Show. 'Zelmira' was one of 220 entries presented by 27 companies.
The most important aspect of sourcing bulbs? Your relationship with a supplier. "The prices don't vary that much between suppliers. What's more important is to build the relationship. Deal with people you can trust and are doing the best they can with you," he adds.
In terms of new crops, Martin is most excited about double roselilies. "They have been available for several years, but the market is now building up for them. Our customers like them, but it's still a little challenging to find the right varieties." The double lilies don't have pollen, which is one advantage over Oriental lilies. They're also not as strongly fragrant.
It's a Bright Future for Flowers
Martin sees plenty of challenges—and opportunities—for flower farmers. "There's not one flower farmer in this country that does it the same way as another. We're all different sizes, grow different crops in different climates and soil types, and we all have different customers. 
Everyone does it a little different, and we can all do it the way we want. We don't have to all be the same like a dairy or wheat farmer. Everyone is different, and we can all visit and learn from one another. How is it possible that it can be this way? But it is!
"Being an American flower farmer is a privilege. There are a lot of challenges and reasons not to grow flowers, but if you make up your mind to do it, at the end of the day it's a pretty good, honest profession. People love flowers, and they're loving them more than ever in this country. That's a good thing," he says.
Julie Martens Forney is an avid gardener and freelance writer who's been writing about flower and plant production, horticulture research, and consumer gardening for over 30 years. Contact her at [email protected]